Lisbon Cathedral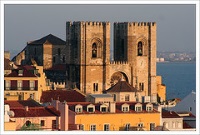 Lisbon Cathedral © ChromaticOrb
Sé de Lisboa, also known as the Patriarchal Cathedral of St. Mary Major, is a Roman Catholic cathedral located in the Alfama district of Lisbon. Since the beginning of its construction in the year 1147, the Lisbon Cathedral, as it is commonly known, has been modified several times and survived many earthquakes. Nowadays, it is a mix of different architectural styles, including Romanesque, Baroque and Gothic architecture.
Although this cathedral in Largo da Sé is not outwardly appealing, it was the first church in Lisbon. It was built on the site of a Saracen mosque after the city was captured by the Crusaders in the 12th century. Inside, this ancient church features treasures like the font where St Anthony of Padua was baptised in 1195 and numerous notable relics, images and icons.
The cathedral is easily reached using the famous number 28 tram.
Address: Largo da Sé, 1100-585 Lisboa, Portugal
Website: www.patriarcado-lisboa.pt