Sé de Lisboa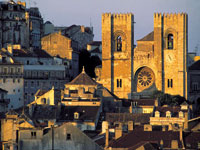 Although this cathedral in Largo da Se in the Alfama district is not outwardly appealing, it was the first church in Lisbon, built on the site of a Saracen mosque after the city was captured by the Crusaders in the 12th century. Inside, this ancient church features some treasures, like the font where St Anthony of Padua was baptised in 1195, and numerous notable relics, images and icons.
Telephone: 21 886 6752
Transport: Tram 28
Opening times: Daily, 10am to 7pm.
Admission: Free