Monument to the Discoveries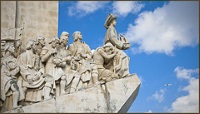 One of the most famous sights in Lisbon is the imposing Padrão dos Descobrimentos, situated on the riverbank along Avenida de Brasilia in the district of Belém. Designed to commemorate the Portuguese Age of Discovery. Belém, where the Tagus meets the sea, is the point from which the maritime explorers of yore set forth in their sailing ships to discover the world.
The monument was unveiled in 1960 on the 500th anniversary of the death of Prince Henry the Navigator in 1460. He was the monarch who was largely responsible for Portugal's role in world exploration during the 15th and 16th centuries. The massive monument takes the form of a caravel with Prince Henry at the prow, backed by images of renowned mariners, royal patrons and others who participated in the golden Age of Discovery.
Address: Av. Brasília, 1400-038 Lisboa, Portugal