Museu Nacional de Soares dos Reis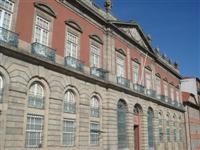 This extensive art museum opened in 1840, and is today dedicated to Soares dos Reis, the famous sculptor born and bred in Porto. The gallery also houses a foreign art collection which includes works by the Dutch, Flemish, Italian and French masters. There is a large collection of Portuguese 19th century works, including those from the Porto school, and exhibits of ceramics, glassware, gold and silverwork and furniture.
Address: Palacio dos Carrancas, Rua de Dom Manuel II
E-mail: mnsr@ipmuseus.pt
Website: mnsr.imc-ip.pt
Telephone: 223 393 770
Transport: Bus 3, 20, 35, 37, 52 or 78
Opening times: Tuesday 2pm to 6pm, Wednesday to Sunday 10am to 6pm
Admission: €5 (adults), concessions available. Free on Sundays and bank holidays until 2pm.