Hofburg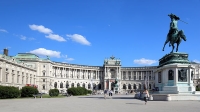 Hofburg Palace Vienna, Austria © Bwag/cc-by-sa-4.0
The Hofburg Palace was the home of the Habsburg dynasty for 600 years, its fortifications continually expanded since its construction in the 13th century. As well as housing the president's offices, the palace now encompasses 22 separate museums, the National Library, a 14th-century Augustinian church, the famous Spanish Riding School and the Royal Chapel. The most popular museums are the Kaiserappartements, the Sisi Museum and the Imperial Silver Collection. Situated in the Hofburg Palace, the 14th-century royal library is among the oldest and finest in the world. Its some six million items include papyri, manuscripts, ancient books, maps, portraits, music and photographs. The Grand Hall is a palatial room topped by a dome, designed in the Baroque style and decorated with statues and exquisite frescoes.
Address: Innerer Burghof 1, Kaisertor
Website: www.hofburg-wien.at
Telephone: (0)1 533 7570
Transport: U-Bahn to Herrengasse; tram D, J, 1 or 2 to Burgring; bus 2A or 3A to Hofburg
Opening times: Daily 9am to 5.30pm (September to June), 9am to 6pm (July to August).
Admission: €13.90 (adults), €8.20 (children 6-18); other concessions available. Price includes audio guide.