Hofburg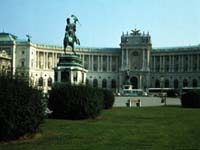 The Hofburg Palace, or Imperial Palace, was the home of the Austrian Hapsburgs for 600 years. The first fortifications were erected by King Ottakar Premyst in the 13th century and were added to by every generation until it became the monumental structure it is today. As well as housing the president's offices, the palace now encompasses 22 separate museums, the National Library, a 14th-century Augustinian church, the famous Spanish Riding School and the Royal Chapel, where every Sunday the Vienna Boy's Choir sing Mass (they have performed for the Royal Court since 1498). It will be impossible to even catch a glimpse of everything on display at the Hofburg, so visitors should be selective. The most popular of the museums is the Kaiserappartements, which takes visitors on a tour of the Kaiser's imperial apartments, the Sisi Museum, and the Imperial Silver Collection.
Address: Innerer Burghof 1, Kaisertor
E-mail: info@hofburg-wien.at
Website: www.hofburg-wien.at
Telephone: (0)1 533 7570
Transport: U-Bahn to Herrengasse; tram D, J, 1 or 2 to Burgring; bus 2A or 3A to Hofburg
Opening times: Daily 9am to 5:30pm (until 6pm in July and August).
Admission: €10.50 (adults), €6.50 (children 6-18); other concessions available.