Igreja de Sao Francisco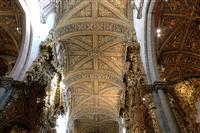 On the Oporto waterfront stands the church of St. Frances, dating from 1383, which, while not very imposing from the outside, has a lavishly Baroque decorated interior that was created in the 17th and 18th centuries. Pillars and columns within the vault are festooned with gold-gilded cherubs and flower garlands, entwined animals and fruit cornucopia. This feast for the eyes is set off by wide Gothic arches made of marble, which soar into the roof.
Address: Rua do Infante D. Henrique
Telephone: 222 062 100
Opening times: Daily from 9am.
Admission: €3.50 (Museum)