Frederico de Freitas Museum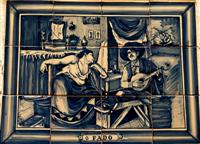 Tile depicting Fado musicians © Pedro Ribeiro Simões
Named after the Madeiran lawyer who amassed the fascinating collections on display as a hobby, the Frederico de Freitas Museum in Funchal houses a vast array of decorative Turkish, Moorish and North African tiles, as well as about 2,000 mugs, trophies and vases. Besides these highlights the de Freitas collection also includes Madeiran artefacts, porcelain pieces, religious sculptures, ancient sacred paintings and Chinese and North African metal and woodwork.
When Frederico de Freitas died, he left his collection to the Autonomous Region, in the sequence of which the building was expropriated by the Regional Government, which then started rebuilding and restoration works on the house for the purpose of opening it to the public as a museum.
With the dining table always being laid, the fresh flowers in the vase and the winter garden being well looked after, you get the impression that someone is actually still living there! The museum is a treasure trove for antique lovers.
Address: Calçada de Santa Clara 7, 9000-036 Funchal, Portugal