Fort San Felipe del Morro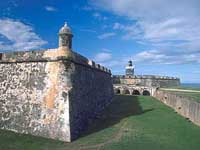 San Felipe del Morro, San Juan © Puerto Rico Tourism Company
The mighty six-level fortress of San Felipe del Morro, built in 1540, towers 140 feet (43m) above the sea on San Juan Bay, its 18-foot thick (5m) walls having proved a worthy defence against invasion. The largest fortification in the Caribbean, it is a maze of tunnels, dungeons, barracks, lookouts and ramps, offering spectacular views from atop its ramparts. Also in Norzagaray Street, Old San Juan, is El Morro's partner in defending the city, Castillo San Cristobal, built in the 17th century to a confusing and intricate modular design.
Website: www.nps.gov
Telephone: 787 729 6960
Opening times: Forts open daily from 9am to 6pm.
Admission: US$3 (adults), concessions available