La Fortaleza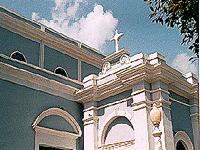 La Fortaleza, San Juan © National Park Service
The Fortaleza was built in 1540 as a fortress to guard the entrance to the San Juan harbour, but later became the official Governor's residence. During succeeding centuries the original structure has been remodelled and expanded, with a neoclassical façade being added in 1846 to leave the building with its palatial aspect. The current governor of Puerto Rico is in residence - the 170th Governor to live in the Fortaleza.
Address: Fortaleza Street, Old San Juan
Telephone: 729 6960
Opening times: Open Monday to Friday, from 9am to 5pm.
Admission: Free