Saint John the Baptist Cathedral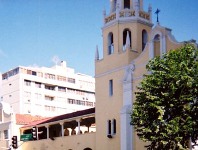 St John\'s Cathedral ©
San Juan's Cathedral was originally built in 1521 by Puerto Rico's first Spanish bishop as a thatched wooden church, but was destroyed in a hurricane in 1526. The current medieval structure, built from stone brought in from inland quarries by horses, dates from 1540, although extensive renovations and reconstructions were carried out in 1917. The cathedral features Doric columns and elliptical vaults, and contains the marble tomb of the island's first governor.
Address: Cristo Street
Telephone: 787 722 0861 or 787 722 1709
Opening times: Daily tours run from 8:30am to 4pm. Regular services are held.