University of Puerto Rico Campus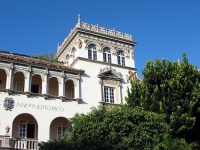 University of Puerto Rico © Zesmerelda
The University of Puerto Rico campus in the Rio Piedras offers several attractions for visitors and non-students. The Museum of History, Anthropology and Art contains archaeological and historical exhibits and holds monthly art exhibitions, and the Art Museum Dr. Pío López Martínez de Cayey has a large collection of Puerto Rican silkscreen posters. The Botanical Gardens in the grounds of the University are a living laboratory, displaying the native flora of Puerto Rico, and containing more than 200 species of tropical and sub-tropical plants as well many sculptures from artists such as Leopoldo Maler, Carlos Guzman and Rolando López Dirube.
Address: Rio Piedras
Telephone: 764 0000 ext 2452 (museum); 763 4408 (gardens)
Opening times: Museum: Monday to Friday 8am-4:30pm; and on weekends 11am-5pm. Gardens:n daily 6am-6pm.