Museo de Arte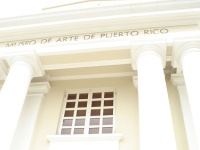 Museo de Arte © mary jane watson
Puerto Rico's showcase art gallery opened just a few years ago at a cost of millions of dollars. The gallery is housed in a former city hospital in Santurce and offers a permanent and visiting exhibition. The aim is to highlight the island's heritage through the work of local artists, such as Francisco Oller, who studied in France with Cézanne, and Jose Campeche, a late-18th century Classical painter. The museum has been described as a 'living textbook of Puerto Rico', providing on overview of centuries of the island's history through the medium of art. The museum also hosts events like concerts and festivals throughout the year.
Address: 299 De Diego Avenue, Santurce
Website: www.mapr.org
Telephone: 977 6277
Opening times: Open Tuesday to Saturday 10am-5pm (until 8pm on Wednesdays); and Sunday 11am-6pm.
Admission: US$6 adults, US$3 children. Other concessions available.