Las Cabezas de San Juan Nature Reserve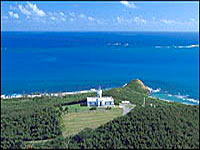 El Faro lighthouse, Las Cabezas © Puerto Rico Convention Bureau
Located on three promontories on the extreme northeast corner of the island, Las Cabezas reserve is one of the most beautiful and bio-diverse natural areas in Puerto Rico. The reserve is close to Fajardo, a major marina and diving resort, located about an hour's drive from San Juan. The area offers pristine beaches ideal for snorkelling. The reserve contains seven different ecological systems including coral reefs, sandy beaches, lagoons, mangroves and dry forest. It is also home to several endangered species. Boardwalk trails provide easy access to the different natural sites. A restored 19th-century lighthouse, El Faro, is situated on one of the headlands and offers an information centre and observation deck.
Telephone: 722 5882 (weekday reservations), 860 2560 (weekend reservations)
Opening times: Open Wednesday to Sunday, with reservations required. English language tours operate at 2pm.
Admission: US$7 (adults), US$4 (children)