Palace of Parliament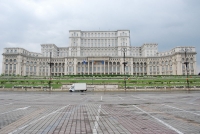 Palace of Parliament © George Groutas
Built by former dictator Nicolae Ceausescu, the colossal Palace of Parliament is the largest civilian administrative building in the world. It is an immense structure that took 20,000 workers and 700 architects to build, and cost billions. It has 12 stories, 1,100 rooms, a 328 foot-long (100m) lobby, and four underground levels including an enormous nuclear bunker.
Started in 1984, the dictator intended it to be the headquarters of his Communist Government, but it was still unfinished when he was executed in 1989. Today it houses the seat of Romania's Parliament (which occupies only 30 percent of the building) and is an international conference centre. Widely viewed as a personification of his obsession with the grandiose and excessive, the construction entailed the demolition of a quarter of Bucharest's historic centre, including 26 churches, and the relocation of 40,000 inhabitants from their 19th century homes to new developments on the outskirts.
Built and furnished exclusively from Romanian materials, the building reflects the work of the country's best artisans. A guided tour takes visitors through a small section of dazzling rooms, huge halls and quarters used by the Senate (when not in session). The interior is a luxurious display of crystal chandeliers, mosaics, oak panelling, and marble, gold leaf and stained glass windows, and even the floors are covered in rich carpets. The largest room has a sliding roof wide enough for a helicopter to enter. Tour guides delight in recounting tales of the vast amounts of money that went to waste in decorating and re-decorating its rooms.
Address: Strada Izvor 2-4
Website: www.cdep.ro/cic