The Village Museum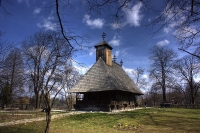 The Village Museum © Klearchos Kapoutsis
One of Bucharest's finest sights is the Village Museum, situated within the Herastrau Park alongside a picturesque lake. It is a fascinating outdoor museum with a collection that spans more than 300 buildings representing the history and design of Romania's rural architecture, including peasant homes, barns, wooden churches, and Transylvanian houses from all regions of the country to recreate a village setting.
Traditionally dressed peasant workers portray life during the 16th and 17th centuries along with everyday tools and accessories. Traditional crafts are also for sale around the site.
Address: 28-30, Șoseaua Pavel Dimitrievici Kiseleff
E-mail: contact@muzeul-satului.ro
Website: www.muzeul-satului.ro
Telephone: +40 21 317 9103
Opening times: Tuesday to Sunday 9am-7pm, closed Monday.