Stavropoleos Church and Monastery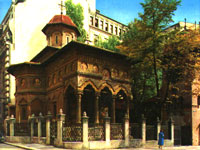 Stavropoleos Church, Bucharest ©
The tiny but remarkable Stavropoleos Church was built in 1724, designed by a Wallachian prince renowned for his religious architectural accomplishments, and is one of the oldest churches in Bucharest. Built using a combination of Romanian and Byzantine architecture it has a beautiful façade and a delicately carved columned entrance. Surrounded by a peaceful garden, it is an architectural jewel, with beautiful frescoes and religious icons.
Attached to the church is Stravropoleos Monastery. The Monastery specialises in Byzantine music and has an impressive choir and Romania's largest collection of Byzantine music books. The monastery's library contains more than 8,000 books, including a significant number of old manuscripts and printed works.
Address: Stavropoleos Street
Website: www.stavropoleos.ro
Telephone: +40 (0)21 313 4747
Opening times: Daily 8:30am-6pm.