National History Museum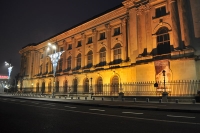 National History Museum © Joe Mabel
Housed in the former 1900 Post Office building is one of Bucharest's most important museums, the National History Museum. Spread throughout 41 rooms the exhibits recount the country's development from prehistoric times to the 1920s.
The museum is located inside the former Postal Services Palace, which also houses a philatelic museum. Interestingly, the museum had to be closed briefly for reconstruction in 2012 when a late-medieval archaeological site was discovered under the building.
The highlight is the basement National Treasury, which is crammed with a dazzling display of gold, jewellery and valuable Neolithic curios. It is the biggest and best museum in the country and affords an excellent opportunity to get to grips with the exciting history of Romania.
Address: Calea Victoriei 12
Website: www.mnir.ro