Bran Castle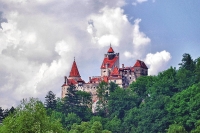 Castle Bran © Florin73m
Often referred to as Dracula's Castle, the fortified medieval Bran Castle is a national monument and landmark of Romania. Looking exactly as a vampire count's abode should, the forbidding façade, towers, and ramparts rise out of the forest, perched high on a steep cliff face against a dramatic mountain background. Despite its aesthetic, there is little evidence to suggest Vlad Tepes, the speculated inspiration for Dracula, ever stayed there.
Bran Castle was built in 1377 to protect nearby Brasov from invaders, later becoming the favourite summer residence of Queen Marie, offered to her by the people of Brasov. The rooms and towers surround an inner courtyard with a sculpted stone fountain. A warren of narrow, winding stairs, secret chambers, and underground passageways lead between vaulted halls, a prison, a living area, and watchtowers with sweeping views.
The rooms are decorated with a collection of Baroque furniture, elaborately carved four-poster beds, weapons and armour dating from the 14th to 19th centuries. On the grounds below is an open-air ethnographic Village Museum consisting of old local-style architecture with household objects, costumes, and furniture on display. At the entrance to the castle grounds is a large handicraft market to entice tourists with souvenirs from the fantastical castle.
Address: Strada General Traian Moșoiu 24, Bran
E-mail: office@bran-castle.com
Website: www.bran-castle.com
Telephone: +4 0268 237 700
Opening times: Tuesday to Sunday 9am-4pm, Monday 12pm-4pm.
Admission: 40 Lei adults, 10 Lei children, other concessions available.