Peles Castle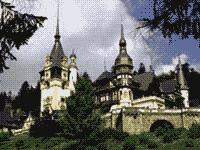 Considered to be one of the most beautiful castles in Europe, Peles Castle was the summer residence for Romania's kings. Built by King Carol I in 1883 the castle is a masterpiece of German-Renaissance architecture with an exquisite exterior, and is surrounded by fir forests and the towering peaks of the Carpathian range.
The castle's 160 rooms are magnificent; lavishly decorated in ebony, mother of pearl, walnut and leather with crystal chandeliers, fine collections of sculptures, paintings and tapestries, stained glass windows and furniture. It is set within a large park with a statue garden in front. Further up the hill from the main palace is the smaller Pelisor Palace, built for Carol I's son and decorated in the Art Nouveau style.
Address: Pelesului Street
E-mail: peles.ro@gmail.com
Website: www.peles.ro
Telephone: +40 (0)244 310 918 or (0)244 311 496
Opening times: Tuesday 11am-5pm, Wednesday to Sunday 9am-5pm (May to September), closed on Mondays. From September to May the castle is open Wednesdays 11am-5pm and Thursday to Sunday 9am-5pm. Closed on Mondays and Tuesdays.
Admission: RON 20 (Ground floor is free).