Peles Castle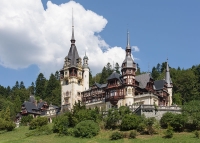 Peles Castle in Sinaia, Romania © Myrabella
The quintessential fairy tale castle, complete with turrets and surrounded by forests, the neo-classical Peles Castle was the summer residence for Romania's kings. Built by King Carol I in 1883, the castle is a masterpiece of German-Renaissance architecture with an exquisite exterior, and emerges from fir forests and the towering peaks of the Carpathian range.
The castle's 160 rooms are magnificent; lavishly decorated in ebony, mother of pearl, walnut, and leather with crystal chandeliers, fine collections of sculptures, paintings and tapestries, and stained glass windows and furniture. It is set within a large park with a statue garden in front. Further up the hill from the main palace is the smaller Pelisor Palace, built for Carol I's son and decorated in the Art Nouveau style.
Address: Aleea Peleșului 2
Website: www.peles.ro
Opening times: Wednesday to Sunday 9.15am-5pm, closed Monday and Tuesday/
Admission: 30 lei Adults, free for children, other concession available.