The Painted Monasteries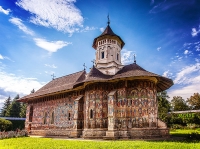 The Moldovita Monastery, a Romanian Orthodox monastery. © Alex Moise
The 15th century painted monasteries of Southern Bucovina have been declared UNESCO World Heritage Monuments, they represent some of the greatest artistic monuments in Europe and are among the most picturesque treasures in Romania. Most of the churches are fortified with strong defensive surrounding walls as protection against Turkish invaders that sheltered large armies of soldiers awaiting battle.
The exterior walls of the monasteries are richly decorated with vivid frescoes depicting dramatic Biblical scenes, intended to teach Christianity to the illiterate. The artwork has amazingly survived harsh exposure to the elements for over 450 years and the intense colours have been well preserved. The five main painted monasteries near Suceava are Humor, Voronet, Moldovita, Sucevita, and Arbore. The predominant colour of the artwork at Voronet is a vivid blue that serves as a background to the designs.
The quality of the frescoes, the magnificent Last Judgement and the brilliant colour has earned it the moniker of 'Sistine Chapel of the East'. Humor is characterised by its predominant red colour; and the largest and finest of the monasteries, Sucevita, has its thousands of painted images on a background of emerald green. Moldovita, situated in the middle of a quaint farming village, consists of a strong fortified enclosure with towers and heavy gates, with the beautiful painted church in the centre. Also nearby are Dragomirna and Putna monasteries, the latter home to an active community of monks and a small museum containing medieval manuscripts and rare textiles.