Red Square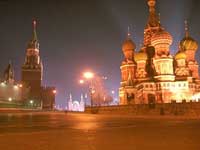 Red Square is a dramatic open cobbled space in the centre of Moscow, originally the city's market place that served as a public gathering place to celebrate festivals, listen to government announcements or to witness executions, especially common during the reign of Ivan the Terrible. The Soviet state turned it into a memorial cemetery, and constructed Lenin's Mausoleum to one side - a crystal casket containing the preserved body of the founder of the Soviet Union that is still open to public viewing today.
The communist government destroyed several ancient buildings around Red Square, including the Resurrection Gate and chapel, to make space for and to allow easy tank access to the demonstrations and military parades that frequented the area. The current Resurrection Gate and chapel are replicas that were built in the 1990s. Its most impressive parade involved the gathering of thousands of Russian soldiers ready to march to war against the Nazis in 1941, the rumble of tanks a demonstration of Soviet might during the Cold War.
The word 'red' doesn't apply to the colour of the brickwork, neither is it a reference to communism. The meaning of the word 'krasny' originally meant 'beautiful' in Old Russian, referring to St Basil's Cathedral at the southern end, but over the centuries the word changed to mean 'red' too, thus the square's present name. St Basil's Cathedral is the city's most well known building and is crowned by the bulbous multicoloured domes that have made it an instantly recognisable landmark.
Address: Krasnaya Ploshchad
Transport: Metro stop Ploshchad Revolutsii