The Winter Palace and the Hermitage Museum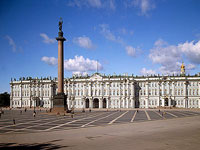 The magnificent green, white and gold Winter Palace is superbly situated on the banks of the Neva River, a 656 foot-long (200m) Russian Baroque building that is the biggest and most lavishly decorated palace in the city. The palace was the official residence of the tsars, and Catherine the Great later added the Small and Large Hermitages onto the palace as a sanctuary for herself and her private art collection.
The Hermitage Museum comprises a stately complex of buildings strung along the embankment, with the Winter Palace at its heart. The Hermitage Museum is one of the world's greatest art museums that has grown from a small collection of paintings started by Catherine the Great in 1764, to a massive display of over three million exhibits, housed within the sumptuous splendour of one of the most luxurious palaces worldwide. The three floors cover a full range of world art from ancient times, to Russian works and 20th century Europe, and a fabulous collection of Impressionist and Post-Impressionist paintings, set against the rich interior of white marble staircases, golden ceilings, crystal chandeliers, and elaborate mosaics. Of the highlights, the lavish State Rooms, the Golden Rooms, containing a spectacular collection of royal jewels, gold and silver, and the modern European art section are the most popular.
Address: Dvortsovaya Square
E-mail: visitorservices@hermitage.ru
Website: www.hermitagemuseum.org
Telephone: (812) 710 9625
Transport: Metro stations Nevsky Prospekt or Gostiny Dvor; trolleybus 1, 7 or 10; or bus 7, 10 or 147
Opening times: Daily except Mondays 10:30am-6pm. Closes 5pm Sundays.
Admission: RUB 400, free for students and children. A valid form of ID is required to enter. Separate charges are levied for special exhibitions.