Giant Wheel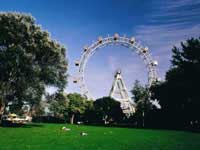 One of Vienna's most recognisable attractions, the Giant Wheel is located in a large wooded park and playground known as the Prater. It was built in 1897 by an English engineering firm and is the only one of its era still standing (the ferris wheels in Chicago, London, Blackpool and Paris have long since been destroyed). The wheel with its 15 gondolas takes twenty minutes to manoeuvre around and offers magnificent panoramic views of the city.
Address: Prater 90
E-mail: info@wienerriesenrad.com
Website: www.wienerriesenrad.com
Telephone: (0)1 729 5430
Opening times: Open daily but hours vary seasonally, see website for details.
Admission: €8.50 (adults), €3.50 (children 3-14), concessions available.