St Isaac's Cathedral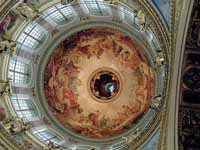 Dome inside St Isaac's Cathedral © Sanne Smit
The golden dome of St Isaac's Cathedral dominates the skyline of St Petersburg, with the colonnade around the cupola offering superb panoramic views over the city. It was commissioned by Tsar Alexander I to be a magnificent imperial cathedral, and the ensuing masterpiece was of grandiose proportions, taking more than 40 years to build. It was decorated in the most extravagant manner. The Russian Classic exterior encloses a splendid interior adorned with red granite columns, exquisite mosaics, painted ceilings, sculptures, frescoes, and a beautiful stained-glass window, incorporating many different kinds of stone and marble work into the massive structure. The cathedral can accommodate 14,000 worshippers, but today services are held here only on special occasions. It is worth noting that no photography or filming is allowed in either the Cathedral or the Colonnade.
Address: St Isaac's Square, 4, St Petersburg, Russia.
E-mail: office@cathedral.ru
Website: eng.cathedral.ru
Telephone: +7 812 315 9732
Transport: Take a metro trip to Admiralteyskaya station.