Singapore Zoological Gardens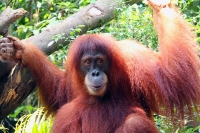 The Singapore Zoo has been thoughtfully created to simulate the natural habitats of its resident animals. Eight zones recreate the geographic regions of the animals indigenous to them, including the South East Asian rainforest, African savannah, Nepalese river valley, Burmese jungle, and South American pampas. These vistas can also be explored after daytime during the famous Night Safari, billed as the first of its kind. Conceived of as a way to allow visitors to observe nocturnal animals 'acting naturally', the Night Safari is one of Singapore's most popular touristic activities. The method in which this has been achieved is typically ingenious: the zoo is closed during the day so the animals' sleep isn't disturbed, and at night it is lit by soft lighting that resembles natural moonlight. The zoo can be explored along its meandering walking trails or from the comfort of a tram that winds its way along a circular route. It is home to more than 2,000 animals representing over 300 species, the highlights of which include the Komodo dragons, polar bears and the many primates.
Animal shows are held daily, and children can enjoy camel rides or share food with an orangutan in the zoo's Children's World section. A Guide to the Zoo is available on arrival with details of feeding times and other activities. It includes a map and suggested itineraries incorporating the major shows and attractions.
Address: 80 Mandai Lake Road
Website: www.zoo.com.sg
Transport: Bus 171 from the city to Mandai Road and transfer to 927 at the first bus stop. Or take MRT to Ang Mo Kio to connect with bus 138