Table Mountain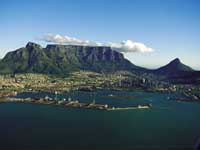 Cape Town panorama ©
Cape Town's most popular tourist attraction is also its most famous physical feature. The flat-topped mountain stands as a sentinel over the city, and has been proclaimed a nature reserve, thereby protecting its diverse floral species. Some are unique to its slopes. The views of the city and coastline from the top of the mountain are quite spectacular in all directions. A Swiss-built rotating cable car carries visitors smoothly up the mountain and back. The mountaintop is equipped with a restaurant and small gift shop, as well as numerous pathways and vantage points. It is possible to climb the mountain via different routes, but inexperienced hikers should take care because Cape Town is prone to sudden weather changes. The walk up can take a few hours, depending on the route and level of fitness. Route maps can be bought at the cable-car station. It is always best to check the website or call the weatherline to see if the cable car is in operation. Hikers should travel in groups, as there have been reports of robberies on the trails.
Tickets for the cable car can be booked online via the official website. They are marginally cheaper online and allow travellers to skip the sometimes long queues at the ticket kiosk. Ascending Table Mountain is an absolute must for visitors to Cape Town.
Address: Tafelberg Road
Website: www.tablemountain.net
Transport: Bus to Kloof Nek from Adderley Street and a 1.5km walk up the hill; minibus taxi from the Parade; Riki taxi; or as part of the Cape Town Hop-On Hop-Off bus tour
Opening times: Cable car operates daily (weather permitting) every 10-15 minutes from 8am to 8pm (November); 8am to 10pm (December to January); 8am to 8:30pm (February); 8am to 7:30pm (March); 8am to 6:30pm (April); 8:30am to 6pm (May to mid-September); 8:30am to 7pm (16 September to October). Closed for annual maintenance for about three weeks in July and August
Admission: Cable car: R225 return, R135 one way (adults); R125 return, R65 one way (children under 18). Other concessions available.