Vienna State Opera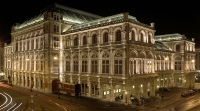 Vienna State Opera © Markus Leupold-Lowenthal
The Vienna State Opera performs a repertoire of nearly one hundred operas, operettas and ballets every day from September to June. The opera house was founded in the early 18th century but rebuilt in 1945, now a romantic and regal setting in which to enjoy the performances. As seating tickets are not easily available, an alternative is to buy standing tickets. The State Opera collaborates closely with the Vienna Philharmonic Orchestra and their famous New Year concert requires advance bookings of up to one year. The building is beautiful and of interest in itself, even if visitors are unable to catch a show.
Address: Opernring 2
Website: www.wiener-staatsoper.at
Telephone: +43 51444 2250
Transport: Take the U-Bahn lines U1, U2, U4 or the 59A bus to Karlsplatz or Oper stations
Opening times: Guided tours are offered Tuesday to Sunday; check dates and times online or via telephone
Admission: Combination tickets for tour and museum are available and come at varied prices, check website for details. Concessions available.