St George's Cathedral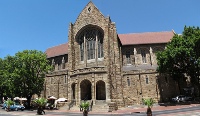 St. George's Cathedral © dvdmerwe
Cape Town's Victorian Gothic style Anglican Cathedral, founded in 1901, is situated in Wale Street and is historically significant for it is where the enthronement of South Africa's first black archbishop, Nobel Peace Prize winner Desmond Tutu, took place.
The Cathedral is unique in that it became a political powerhouse in the struggle against Apartheid, known as 'the people's cathedral', stating openly from the 1950s onwards that it was open to all people of all races at all times.
This was a brave stand in the racially segregated society of the time. In subsequent years, the cathedral became the venue for many protest gatherings and vigils and, on occasion, the building was surrounded by police, water cannons, and barbed wire.
Victims of forced removals were even accommodated in the cathedral at times. As far as architectural merit goes, the cathedral does feature some fine Gabriel Loire windows, including a magnificent Rose Window above the south transept.
It is an imposing church, well integrated into the community and well cared for, and the profoundly inspirational legacy of Desmond Tutu is palpable.
Address: Wale Street