Hohensalzburg Fortress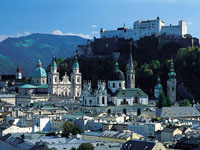 The 11th-century Hohensalzburg Castle stands on a rocky outcrop approximately 394ft (120m) above the city. Although originally built by Archbishop Gebhard to repel attacks from the neighbouring Bavarians, the present-day fortress was largely rebuilt in the early 16th century by Archbishop Leonhard Von Keutschach who added the grand state apartments. Visitors can walk around the courtyard and outskirts of the fortress at no cost unless they take the guided tour around the state apartments. The tour finishes at two small museums (this is optional) that display a selection of weapons, uniforms and armour together with instruments of torture - such as the Schandmasken - which petty criminals had to don as punishment for their crimes.
Address: Mönchsberg 34
E-mail: festung@salzburg.gv.at
Website: www.salzburg-burgen.at
Telephone: (0)662 842 430-11
Transport: It is possible to walk, or there is a funicular.
Opening times: Open daily 9:30am to 5pm (October to April), 9am to 7pm (May to September).
Admission: Fortress Card €10.50 (adults), €6 (children 6-14 years); other concessions available.