Cape Point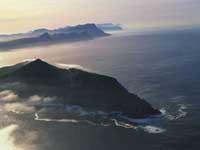 Most visitors to Cape Town are keen to make a day trip 40 miles (65km) from the city to the Cape of Good Hope Nature Reserve, not only to take in its floral diversity in what at first sight appears to be a bleak landscape, but to stand at the top of the towering promontory at the most southerly point of the Cape Peninsula (not of Africa, visitors must go further afield to Cape Agulhus for this). From the viewpoint and lighthouse at Cape Point, reached via a funicular, it is awesome to watch the thundering waves crashing at the base of the cliffs 686ft (209m) below. The reserve itself is worth exploring, particularly on foot, for those interested in birds and botany. The restaurant at Cape Point has a terrace offering spectacular views. Resident baboons here enjoy the spoils from tourists' snacks - particularly their ice-cream; they can be quite aggressive. Because feeding of the baboons carries a stiff penalty, it is worth ensuring there are no free lunches for these hirsute scavengers!
E-mail: info@capepoint.co.za
Website: www.capepoint.co.za
Telephone: 021 780 9010/11
Opening times: Daily 6am to 6pm (October to March), 7am to 5pm (April to September). Funicular: 9am to 6pm (summer), 9am to 5:30pm (winter).
Admission: R80 (adults), R20 children. Funicular: R35 one way (adults) or R45 return, concessions available