Market Square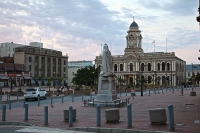 Market Square, Port Elizabeth © Leo za1
Port Elizabeth's architectural heritage can be traced by taking a walk around the city's central Market Square, which features several historic buildings. The centrepiece of the square is the aesthetically pleasing City Hall, dating from 1858 and topped with an attractive clock tower.
Also in the square is a replica of the Diaz Cross that commemorates the first European to set foot in Algoa Bay in 1488, when Portuguese explorer Bartholomew Diaz stopped over on his way east. Alongside the city hall is the Prester John Memorial, dedicated to the Portuguese explorers who landed in South Africa.
On the northwest flank of the square is the city's public library, built in 1835 and originally used as a courthouse. The beautiful building is regarded as an excellent example of Victorian Gothic architecture and is interesting in that its façade was manufactured in England and shipped to Port Elizabeth to be recreated piece by piece.
In front of the library stands a marble statue of Queen Victoria, which was unveiled in 1903. Slightly downhill from the square, at the entrance to the harbour, stands the Campanile, containing one of the biggest carillons of bells (23) in the country. Visitors can climb 204 steps to enjoy the view from the top of this monument, which commemorates the landing of the 1820 settlers.