St George's Park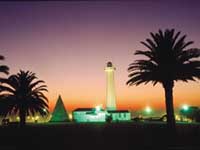 Edward Pearson Conservatory, St George's Park, PE ©
St George's Park has been a recreational centre for the city of Port Elizabeth for more than 150 years, boasting well-landscaped gardens covering 73 hectares. On site is the world famous Port Elizabeth Cricket Club, the second oldest cricket club in South Africa and the scene of many an exciting test match series, and the oldest bowling green in the country, established in 1884.
The historic sporting venue was also the site of South Africa's first rugby test match. The love of cricket was brought to Port Elizabeth by British settlers and local myths tell of one of the settlers wading through the waters of Algoa Bay towards his new homeland with his cricket bat held safely above his head to keep it dry.
The park also features the 1882 Edwardian Pearson Conservatory, a national monument filled with orchids, water lilies, and other exotic plants. Apart from being good for strolls and picnics, to say nothing of sporting events, the park hosts a vibrant arts and crafts fair every second Sunday of the month.
The other major park in Port Elizabeth is Settler's Park, set in the Baakens River valley, which boasts indigenous flora and fauna and offers a delightful stroll along the riverbank.
Website: www.stgeorgespark.nmmu.ac.za