Addo Elephant Park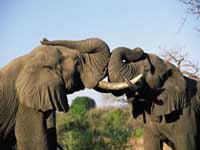 The most popular game reserve in the Port Elizabeth area is the Addo Elephant Park, just a 45-minute drive from the city. The park is situated in the ruggedly beautiful Eastern Cape region, which is still being 'discovered' by tourists, allowing for an authentic safari experience. There are currently about 550 elephants in residence in the park, which was recently enlarged. Addo was proclaimed in 1931 in an effort to save the remaining 11 elephants indigenous to the area, and the park has been a remarkable success; it is now the third largest game reserve in South Africa and one of the most popular with tourists and locals. The elephants are drawn to watering holes at certain times and sightings are virtually guaranteed all year round. There are other animals in the park too, including lion, leopard, black rhino, buffalo, zebra, warthog, hyena and several types of buck. Guided game drives are available or visitors can do a self-drive tour using the map issued at the entrance. The roads are in good condition and driving oneself around is a pleasure. A variety of accommodation is available and there is a restaurant and picnic site. Horse riding and walking safaris are also available. Addo is a great destination year-round but the best months for game viewing are April and May, when it is dry and warm.
Website: www.sanparks.org/parks/addo
Telephone: 042 233 8600
Opening times: Daily 6am to 5.30pm
Admission: R160 (foreign adult), R80 (foreign child); South African residents pay R40 per day.