Grahamstown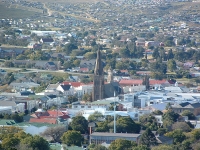 Grahamstown, South Africa © Tim Giddings
The historic settler town of Grahamstown is 78 miles (125km) northeast of Port Elizabeth. Atop Gunfire Hill sits the 1820 Settlers' National Monument, an arts and theatre complex which forms the focus of the town's annual internationally recognised Arts Festival.
Grahamstown was founded in 1815 as a garrison to drive the Xhosa people eastwards across the Fish River frontier, giving rise to a century of frontier war. The town has an English colonial flavour, and is home to the renowned Rhodes University and some top private boarding schools.
There are several museums, including the JLB Smith Institute of Ichthyology where two stuffed specimens of the coelacanth are on display. The town also boasts the only Victorian camera obscura in the southern hemisphere.
Grahamstown is a quaint and picturesque town with a rich history and a famously active student population, making it a wonderful travel base in the ruggedly beautiful 'frontier country' of the Eastern Cape.
The Arts Festival is the highlight of Grahamstown annual calendar, when the little town comes alive with the best theatre, music, and dance that South Africa has to offer and sprawling craft markets take over the streets and fields.
Website: www.grahamstown.co.za