uShaka Marine World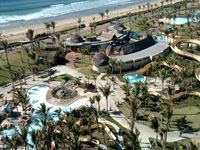 uShaka Marine World, Durban ©
In January 2004 Sea World closed its doors to the public and reopened as uShaka Marine World, which has become the largest marine theme park in Africa. The park is tastefully themed with African imagery and has five zones offering entertainment, dining, a variety of shops, water slides and access to uShaka Beach. Wet 'n Wild offers eight water rides, ranging from heart-stopping, adrenalin-pumping rides to lazy activities for the less adventurous. Sea World has an aquarium with thousands of fish, reptiles, and aquatic mammals on display; a dolphinarium that performs regular musical shows; a penguin rookery; and underwater activities like snorkelling and the 'shark walk'. The Village Walk features the new Dangerous Creatures exhibit, with spiders, snakes, frogs, scorpions and other poisonous creatures. Rayz Kids World gives kids a place to burn off energy with massive jungle gyms and climbing structures. For adults, Moyo offers an oasis at the end of the pier with a brand-new double-story bar right over the water. uShaka is in South Beach, so you can walk there along the beach, or take a bus or taxi. The area can be dangerous, but once inside the park security is good and it's perfectly safe. Lockers can be rented to keep belongings safe.
Address: 1 Bell Street
E-mail: mkt@ushakamarineworld.co.za
Website: www.ushakamarineworld.co.za
Telephone: 031 328 8000
Transport: Marine World is on the main Point Road bus route and is serviced by Greenline and Mynah buses
Opening times: Daily 9am to 5pm. Wet 'n Wild has shorter opening hours during winter.
Admission: Tickets for only Sea World or only Ushaka Wet 'n Wild R139 (adults), R105 (kids under 12); Combo tickets R185 (adults), R139 (kids under 12).