KwaMuhle Museum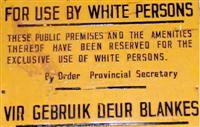 KwaMuhle Museum © Dewet
The KwaMuhle Museum focuses on the history of race laws in KwaZulu-Natal, showing through multimedia presentations the experiences of local people during apartheid. It is housed in the building that was once the Department of Native Affairs, from which the infamous labour system was administrated.
KwaMuhle means 'place of the good one' in honour of a white man who ran the department, but did his best to fight the system from within. This museum provides a fascinating and very personal look at the diverse and difficult cultural history of the region.
But it is ultimately an old-fashioned museum which doesn't have much to offer small kids or those who demand a state-of-the-art interactive museum experience. The content is fascinating, and deeply moving, but the exhibitions are simple and designed for those genuinely interested in the history and willing to read the text.
Guides are available but the museum is well laid-out for independent exploration. The KwaMuhle is near the centre of Durban, close to several bus and taxi routes, and is a worthwhile stop on the tourist circuit in the city.
Address: 130 Ordinance Road