Juma Masjid Mosque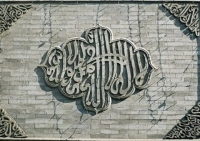 Islam's basic creed written on a plaque © Paul Louis
The grand Juma Masjid Mosque, or Jumma Mosque, was the first mosque to be built in KwaZulu-Natal, starting construction in 1881 and continuing with renovations and improvements until 1943. It is one of the largest mosques in the Southern Hemisphere, and also one of the oldest.
Its golden-domed minarets dominate the central Indian district of downtown Durban, and the muezzin that calls the faithful to prayer can be heard from many parts of the city. The architecture is a mix of classic Mughal Indian and colonial South African features and there is space inside for up to 5,000 worshippers.
The mosque is open to visitors on weekdays and Saturdays but is closed on Sundays. The flat roof of the building is used as a prayer site during festivals but doubles as a playground for girls from the neighbouring school during the day.
Around the mosque is a bustling neighbourhood with takeaway curry restaurants that offer the distinctly Durban 'bunny chow', a hollowed-out loaf of bread filled with curry; the exotic and busy Victoria Street Market; as well as many small shops selling fabric, saris, jewellery, and more. The area is easily accessible by bus or taxi, but visitors should be wary of pickpockets and travel in groups.
Address: Grey Street