Durban Botanic Gardens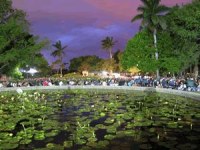 Durban Botanic Gardens © Durban Botanical Gardens
Durban's Botanical Gardens, established in 1849, are the oldest surviving botanic garden on the African continent, and the city's oldest natural attraction. Located on Sydenham Hill Road, west of the Greyville Race Track, the gardens provide a relaxing spot to stroll among huge indigenous and exotic trees, and a stunning orchid house display.
The gardens are also abuzz with birdlife and boast a lovely charity tea garden. Go for a picnic under the trees or by the pond, but leave the sports equipment behind as frisbee and ball games are not allowed.
The gardens are a popular spot for wedding photos on Saturdays, and once a month they host a Sunday afternoon concert that attracts thousands of Durbanites. Areas within the extensive grounds include a lake and reservoir, the Herb Garden, Palm Walk, Fern Dell, Amphitheatre, Japanese Garden, and much more.
There are plenty of grassy areas for picnics and benches for taking a rest. The gardens are in a nice area of Durban to walk about in and there are several bus routes that go past. There is no entrance fee, but if you drive you are expected to tip the car guard about ZAR 5 for watching your vehicle.
Address: 70 St Thomas Road
Website: www.durbanbotanicgardens.org.za