Midlands Meander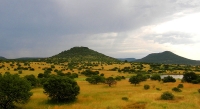 The Midlands, South Africa © Gossipguy
The popular Midlands Meander arts and crafts route winds through the Midlands, along the R103 road, taking in a plethora of participating attractions dotted across the countryside, ranging from herb farms to antique shops.
The Meander covers about 50 miles (80km) between the towns of Pietermaritzburg and Mooi River, and showcases the lovely Midlands landscapes as much as anything else. A really fun and artistic way to explore this beautiful region, the Midlands Meander is a must for those who enjoy quaint tea houses and creativity.
The Meander includes adventure activities, historic landmarks, restaurants and eateries, conference and wedding facilities and the shops and studios of something like 150 talented local artists and craftsmen. For those less crafty and more active, horse riding, hiking, tubing, cycling, swimming, quad biking, and fishing can be enjoyed along the route.
Northwest of Durban in the Midlands of KwaZulu-Natal is the Midmar Public Resort Nature Reserve, offering accommodation, picnic sites and recreational opportunities around the huge Midmar Dam.
This impressive body of water is one of the well-known landmarks along the Midlands Meander, and attracts huge crowds once a year for the Midmar Mile, one of the world's largest open water swims, when Midmar is overrun with swimmers and takes on a festive atmosphere for the race.
Website: www.midlandsmeander.co.za