Johannesburg Zoo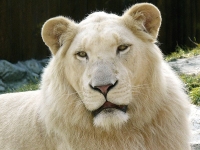 White Lion © Stano Novak
The Johannesburg Zoo is a favourite place for locals to take a stroll among the numerous enclosures that house more than 320 species of animal, including polar bears, that can be viewed underwater in their pool.
Of course, the Big Five (elephant, rhino, lion, leopard, and buffalo) are all in residence, and other highlights include lemurs, gorillas, caracals, Siberian tigers, hippos, orangutans, brown bears, and cheetahs.
The various monkeys are also always very entertaining. There is a large collection of birdlife and a farmyard section with lots of activities for kids. A tractor tram does circuits of the zoo for those who don't fancy walking.
Check the official website below for details on the feeding times of the various animals. The penguins and seals are particularly active during feeds. The Johannesburg Zoo makes for a great day for travellers with kids and there are many restaurants and food stalls for refreshments.
The zoo is dedicated to conservation and rehabilitation and conducts some breeding programmes. Tt also hosts some interesting exhibits and events. On the eastern edge of the zoo is the Museum of Military History, which has some interesting exhibits like tanks, fighter aircraft, and submarines.
Address: Jan Smuts Avenue, main public entrance on Upper Park Drive, Parkview
Website: www.jhbzoo.org.za