Warmbaths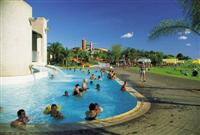 Warmbaths © Southern African Places cc
On the national road north from Johannesburg, towards Zimbabwe, is the flat area known as the Springbok Flats, part of the Great Rift Valley. About 80 miles (125km) north of Johannesburg on the edge of the Flats lies the town of Bela-Bela, still commonly called Warmbaths. The name officially changed in 2002.
It is famous for the hot mineral springs that rise to the surface there. The springs yield about 20,000 litres of water, enriched with sodium chloride, calcium carbonate, and other minerals every hour. The town is a popular spa and holiday resort, considered to be one of the most modern of its kind in the world.
The main resort, called Warmbaths, has a large indoor pool with underwater jets, outdoor hot and cold swimming pools, jacuzzis, a wave pool, and several water slides. The resort also includes facilities for waterskiing, go-karting, quad biking, pedal boating, miniature golf, archery, tennis, squash, and volleyball, as well as several shops and restaurants.
Accommodation is varied but the resort is also open to day visitors, who can gain entry anytime between 7am and 5pm daily. A fun family excursion from Johannesburg, everybody should find something to entertain them at Warmbaths.