Lowveld National Botanical Garden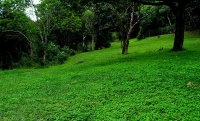 Lowveld National Botanical Garden, Nelspruit © Wernermeiringvdm
Covering 393 acres (159 hectares) on the banks of the Crocodile River at Nelspruit, the Lowveld National Botanical Garden has the largest collection of cycads in the world and the biggest assortment of indigenous trees in South Africa, totalling 650 of the 1,000 known species.
The garden has 600 plant and 245 bird species occurring naturally within its borders, but about 2,000 more plant species have been added to this collection making this haven a feast for botanists. The gardens are traversed by two big rivers, the Crocodile and the Nels, which converge in the grounds and form some spectacular waterfalls which can be viewed from observation platforms.
Highlights of the gardens include the aerial boardwalk and suspension bridge through the African Rain Forest section, and a lovely two-hour walking trail that meanders along the Crocodile River banks and passes three waterfalls.
There is a restaurant, a tea garden, and a concert stage in the grounds. Approximately 70 percent of the gardens are accessible to wheelchairs. Spending a few hours strolling and picnicking in the gardens is a great way to enjoy the natural bounty of the region, but visitors should note that ball games and pets are not allowed.
Address: Off White River Road
Website: www.sanbi.org/gardens/lowveld