Pilgrim's Rest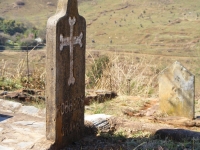 Pilgrim's Rest, South Africa © Olivier.karin
Had it not been for its picturesque setting, Pilgrim's Rest would probably be a ghost town. It is, however, a popular tourist destination, existing today for little other purpose than to entertain and inform visitors about its colourful heyday.
It all began in 1873, when a Scottish miner, Alex 'Wheelbarrow' Patterson, discovered gold at Pilgrim's Creek. Before long, fortune seekers had flocked to the little valley, and the town of Pilgrim's Rest was born.
Mining continued for decades, but started to dry up in the 1940s, the final mine closing in 1972. The entire town has now been declared a national monument and many of its corrugated iron buildings have been restored. These now exist as living museums, and some as souvenir shops.
All development is carefully monitored to ensure the place remains authentic and loses none of its charm. There is an Information Centre on the Main Road where visitors can learn the history of the town before exploring it.
Pilgrim's Rest is part of the scenic Panorama Route, north of Nelspruit. Walking into the town is like stepping back in time and it has been used for a number of film shoots in South Africa. Additionally, there are some great pubs and restaurants if you're feeling peckish.
Website: www.pilgrims-rest.co.za