Blyde River Canyon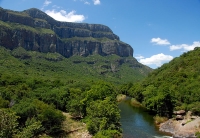 Blyde River Canyon, South Africa © Paul Tosio
The spectacular vista of the Blyde River Canyon, with its sheer cliffs dropping into a bush-covered valley, is part of the scenically breath-taking Panorama Route, worth doing as a self-drive trip from Nelspruit, or on a bus tour.
Other sights on the route include the Three Rondavels, a trio of green-clad peaks set in the canyon, and the Bourke's Luck Potholes, huge holes in the mountainside formed by grinding sand.
The Blyde River Canyon is the biggest green canyon in the world, and the third largest canyon on earth, smaller only than the USA's Grand Canyon and the Fish River Canyon in Namibia. The river itself offers some challenging white water rafting and one of the most wonderful ways to experience the canyon is to paddle the river.
There is a five-day hiking trail winding along the canyon, through the Blyde River Canyon Nature Reserve, which is one of the most rewarding walking trails in the country, if not the world. There are also shorter walking trails, game safaris to see the variety of wildlife that the canyon supports, horse riding trails, mountain biking trips, and abseiling.
All of these activities are offered by the nature reserve. Lastly, is worth mentioning that there is a variety of accommodation in the reserve.