Tsitsikamma National Park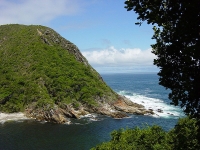 Storms River Mouth, Tsitsikamma © Conrad88
Tsitsikamma is a word of the indigenous Khoi-San people meaning 'place of many waters', accurately describing the beautiful 50-mile (80km) stretch of coastline that makes up the Tsitsikamma National Park. The park is Africa's oldest and largest marine reserve.
The park contains many attractions, including a giant Outeniqua yellowwood tree that is hundreds of years old. The region is criss-crossed by hiking trails, including the world-renowned Otter Trail (a five-day hike), starting at Storm's River and running along 25 miles (41km) of spectacular coastline to Nature's Valley.
A number of private operators, notably Storms River Adventures, offer numerous adventure activities in the area such as black water rafting and abseiling, mountain bike tours and fishing trips. A particularly exciting diversion is to undertake a canopy tour of the forest, gliding across the treetops on steel cables strung between platforms.
The most popular bases for exploring the area are Wilderness, Knysna, and the aforementioned Nature's Valley. All are charming coastal towns, beautifully located, offering comfortable campsites and luxury lodges. Tsitsikamma National Park serves as the highlight of South Africa's famous Garden Route.
Website: www.sanparks.org/parks/garden_route/