Gardens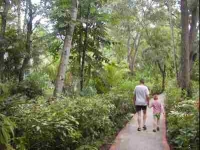 Casuarina Garden © Hanumann
Barbados has many beautiful tropical gardens. All of them are worth visiting for the tranquillity they inspire.
Travellers who begin their adventure in the island's capital, Bridgetown, should visit the nearby Lazaretto Gardens. Located in the parish of St Michael, they're home to several species of tropical flora and feature a magnificent waterfall.
The Flower Forest lies in the Scotland District of Barbados, farther towards the east coast. Visitors will encounter an awesome variety of plants, including brilliantly coloured flowers such as begonias and heliconias, all set against the jungle's lush greenery.
The Andromeda Botanical Garden is another option. Situated in the parish of St Joseph, it contains several varieties of fern, palm, orchid, hibiscus and bougainvillea, as well as other exotic trees and flowers.
Turners Hall Woods are in the Parish of St Andrew. They're one of the last remnants of the indigenous tropical forest that covered Barbados before the first settlement in 1627. Visitors can view indigenous trees like the Sand Box, Silk Cotton, Cabbage Palm, Trumpet Tree and Macaw Palm.
The Parish of St Thomas has a long gully known as Welchman Hall Gully. It contains some impressive tropical trees and rock formations.