Gardens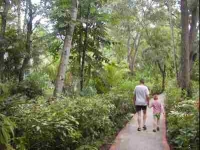 Casuarina Garden © Hanumann
Barbados offers the tranquillity of several beautifully landscaped tropical gardens. Just outside Bridgetown, in the parish of St Michael, is the Lazaretto Garden with its magnificent waterfall cascading over a rock face. In the heart of the countryside, surrounded by sugar plantations is a six-acre former chicken and pig farm that has been transformed into the Orchid World, a floral paradise where more than 20,000 orchids are grown and displayed. Visitors can take self-guided tours past a waterfall, through a coral grotto and onto five orchid houses.
Further towards the East Coast, in the Scotland District of Barbados, is the magnificent Flower Forest. The variety of plants and species here is awesome, with the brilliant colours of flowers like begonias and heliconia reflected against the lush jungle greenery. In the parish of St Joseph is yet another spectacular garden, the Andromeda Botanical Garden. The garden contains several varieties of orchids, palms, ferns, hibiscus, bougainvillea and other exotic flowers and trees.
Turners Hall Woods span acres in the Parish of St Andrew. The woods survive as one of the last remnants of the indigenous tropical forest that covered Barbados before the first settlement in 1627. It contains examples of indigenous trees like the Sand Box, Silk Cotton, Cabbage Palm, Trumpet Tree and Macaw Palm. In the Parish of St Thomas is a long gully, known as Welshman Hall Gully after its original owner. It contains some impressive tropical trees and rock formations.