Castell de Santa Barbara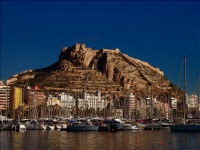 Castell de Santa Barbera © Blai Server
The impressive Santa Barbara Castle has its origins in the Muslim rule of the 9th century, towering over Alicante on top of the Benacantil Mountain. Most of the chambers that can be explored today date from the 16th, 17th and 18th centuries. The fortress is massive, encompassing moats, drawbridges, tunnels, cisterns, and dungeons, not to mention a stately tower and keep. It has endured many attacks, rebuilds, and renovations during its long history and was opened to the public in 1963. Today it houses the Museum of the City of Alicante. From the top of the castle superb views over the bay and the city can be enjoyed. The castle can be accessed via elevator from the Explanada d'Espanya for a small fee, but if you walk up to the castle you can take the lift back down to the beachfront for free. The walk up from the beach is very steep with a lot of steps, and is only suitable for the fit, but it is possible to drive up the mountain as well.
Website: www.castillodesantabarbara.com
Telephone: +34 965 147 160
Opening times: Daily from 10am to 8pm (April to September); 9am to 7pm (October to March)
Admission: Free entrance but varying fees for tours and exhibitions. Check official website for details.