Seville Cathedral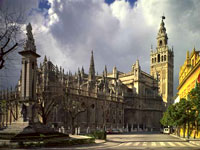 Seville Cathedral © Spanish National Tourist Board
As a monument to Christian glory, Seville's cathedral has few equals, in fact it is still undecided whether it is the largest church in the world when measured against St Peter's in Rome and St Paul's in London. This massive Gothic edifice took more than a century to build, after a group of religious fanatics decided in 1401 to build a church so wonderful that 'those who come after us will take us for madmen'.
The cathedral was built on the site of the Almohad mosque, which was demolished to make way for it, leaving no more than the minaret, built in 1198, known as La Giralda, which is today open to tourists to climb. Along with the Alcazar and the Archivo de Indias, the cathedral has been declared a UNESCO World Heritage Site and is undoubtedly one of the highlights of a visit to Seville. The interior of the cathedral contains some marvellous sights in its 44 chapels, including mahogany choir stalls made from recycled Austrian railway sleepers. It is claimed that Christopher Columbus' remains are here in a tomb dedicated to him, but there is some controversy over this. Artworks to be seen include gilded panels, glittering icons, and intricately carved altar pieces. The cathedral is imposing and quite overwhelming in its scope, but the intricate detail is also incredible.
Address: Avenida de la Constitucion.
Telephone: +34 95 421 4971
Opening times: Monday 11am to 3.30pm, Tuesday to Saturday 11am to 5pm, Sunday 2.30pm to 6.30pm (September to June); Monday 9.30am to 2.30pm, Tuesday to Saturday 9.30am to 4.30pm, Sunday 2.30pm to 6.30pm (July and August).
Admission: €8 (general); €3 (reduced); free for Seville residents and children under 16.