Alcazar of Seville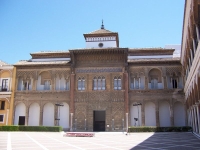 Alcazar in Seville © Dubaduba
Alcazar is Seville's top attraction and one of the most famous in Spain. The complex is a UNESCO World Heritage Site and an undisputed architectural masterpiece. The site of Seville's Moorish palace has been occupied by the city's rulers since Roman times, and has been a favoured residence of Spanish kings since the Middle Ages. Established by the Moors as early as the 7th century, it was primarily built in the 1300s and has been added to and altered by successive occupants ever since. Of the early Christian additions, most notable is the colonnaded quadrangle of the Patio of the Maids. The palace is set in beautiful, extensive gardens where it is possible to picnic if you bring your own food. Otherwise, there is a small restaurant overlooking the gardens. Visitors should allow several hours to explore this spectacular palace complex.
Address: Plaza del Triunfo
E-mail: actividades@patronato-alcazarsevilla.es
Website: http://www.alcazarsevilla.org/
Telephone: +34 95 450 2323
Transport: The Alcazar is best reached by foot from the city centre.
Opening times: Open daily 9.30am to 5pm (October to March) and 9.30am to 7pm (April to September).
Admission: €8.50