Maria Luisa Park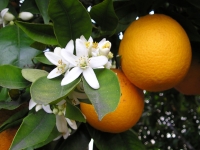 Oranges with blossoms © EugeneZelenko
Regarded as one of the loveliest parks in Europe, this half-mile area in southern Seville, near the port, is planted with palms, orange trees, elms and Mediterranean pines. Bright and beautiful flower beds vie for the eye with hidden bowers, ponds, pavilions, water features and statues in this little paradise, which was designed in the 1920s and thus reflects a mix of Art Deco and Mudejar styling.
The park was originally part of Seville's World Expo, which brought a burst of creative architecture and rejuvenation during the 1920s, and which included the re-direction of the Guadalquivir River and the construction of some opulent buildings, like the stylish Guatemala building off the Paseo de la Palmera. Also fronting the park is the city's archaeological museum, focusing on the Romans and prehistory of the province of Seville.
Near the park is the Royal Tobacco Factory (today part of the university), immortalised by the fictional operatic gypsy heroine Carmen, who is said to have worked there. Many of the buildings surrounding Maria Luisa Park are attractions in themselves. The park is a pleasant refuge for relaxation and a stroll, and a great place to have a picnic in Seville.
Website: http://www.visitasevilla.es/en/lugar-interes/maria-luisa-park