Museo de Bellas Artes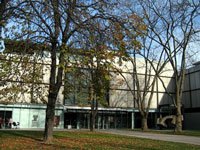 Museo de Bellas Artes ©
For a more mainstream artistic experience than that offered by the astonishing Guggenheim Gallery, the Museo de Bellas Artes in the Plaza Museo fits the bill admirably, with some valuable works on display behind an unassuming façade. The museum's impressive collection spans art from the 12th to 20th centuries, highlights being some excellent Flemish works from between the 15th and 17th centuries. There are also works by masters like El Greco, Goya, Gauguin, Francis Bacon, Picasso, and Velazquez. The museum hosts regular temporary exhibitions so check the official website below to see what is showing during your visit. To the rear of the building there is a pleasant sculpture garden. Audio guides are available in multiple languages for an extra €1 and the museum is very well curated and maintained. Bilbao's Museo de Bellas Artes is becoming increasingly renowned internationally and generally receives rave reviews from visitors. In fact, it is consistently one of the top rated attractions in the city. Entry to the museum is free on Wednesdays, which is a big bonus for those travelling on a budget. Prints and other merchandise can be bought via the online shop.
Address: 2 Museo Plaza
E-mail: info@museobilbao.com
Website: www.museobilbao.com
Telephone: +34 944 396 060
Transport: Metro to Moyua station; or bus 1, 10, 13 and 18 to Museum Plaza
Opening times: Tuesday to Sunday from 10am to 8pm; closed Mondays.
Admission: €10 (adults); €8 (reduced); free for children under 12.